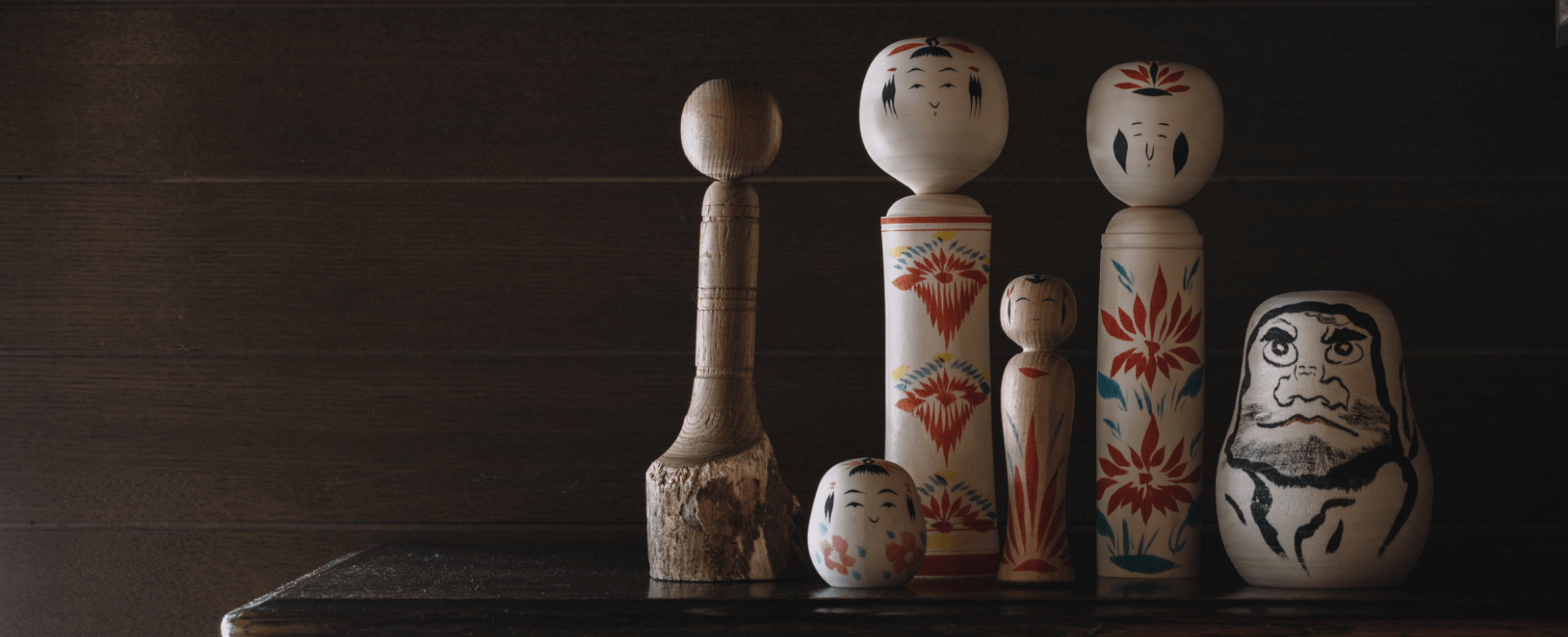 What We Make
Creating something new
The Sakurai family has always taken on the challenge of new things with each successive generation of craftsmen in each era.
Inheriting the spirit of challenge, the Sakurais produce a wide variety of products.
In addition to a wide variety of kokeshi dolls,
such as ones that have inherited their rich "form" named after their predecessors and
modern creative ones that go beyond the inherited form,
we also produce seasonal ornaments such as Hiina dolls, wooden dolls, and kagami-mochi cakes.
All of them are handmade one by one.
We hope you may choose one as a gift or for yourself.
---
The Sakurai Traditional Kokeshi

A Kokeshi doll that has been handed down from our predecessors and masters is called the "Sakurai traditional kokeshi" (Sakurai-ke dento kokeshi).
Making a Sakurai traditional kokeshi is not about copying its form and preserving the past.
It is to have respect and passion for the predecessors of the Sakurais, to imagine and understand the background of the kokeshi, and to create with the modern kokeshi doll in mind.

Sakurai Naruko Kokeshi

It is said that Naruko Kokeshi dolls were first made as children's toys at the end of the Edo period, which later developed as souvenirs of hot spring resorts.
At Sakurai Kokeshi, we make Naruko Kokeshi dolls not only as souvenirs or mementos, but also with the hope that they will bring comfort and enrichment to people's lives.

Creative Kokeshi

For generations, the Sakurais have taken on the challenge of creating kokeshis that are not bound by molds, techniques, or standards.
The Sakurai Kokeshi family has a tradition of taking on new challenges.
We continue to create new kokeshi dolls that have never been seen before as part of the "traditional kokeshi"

Hiina

Hiina is a kokeshi doll made by Sakurai Kokeshi.
With production started by the former head Shoji Sakurai, Akihiro and Naomichi, the current craftsmen, create new models every year.
After 70 years since the start of production, they have now become products that represent Sakurai Kokeshi.

Seasonal Dolls/Ornaments

It is customary to display dolls and ornaments to wish for the happiness of family members and children during the New Year and seasonal festivals.
At Sakurai Kokeshi, we produce traditional Japanese seasonal dolls and ornaments with the hope that they will add color to your everyday life in the seasons and bring you happiness.

Wooden Dolls

In Japan, various types of dolls have been made since ancient times as a good-luck charm to wish people happiness and health.
At Sakurai Kokeshi, we, too, use kokeshi-making techniques to create dolls that connect you to Japanese culture.

Custom Kokeshi Dolls

We accept orders for original kokeshi dolls.
Please feel free to contact us for commercial interiors, novelty souvenir production, or OEM product development.
Series
Kiji Series

The grain and color of the wood used for kokeshis.
The Kiji Series is made without painting so that the viewer can feel the beauty of the shape of Sakurai Kokeshi dolls as is.

Small Kokeshi Series

The Sakurais have always endeavored to create something new while inheriting tradition.
New kokeshi dolls are created and developed for the next generation, and the small kokeshi is a symbol of that tradition from the Sakurais.
As the specialty of one of the predecessors, Iwakura Onuma, the small kokeshi has been passed down to Shoji of the fourth generation and Akihiro of the fifth.
Artisans production
5th generation Akihiro Sakurai
The fifth generation of the Sakurai family, a lineage of kijishi artisans.
He acquired the highest award in all three major kokeshi doll competitions.
In May 2022, he won the highest award at the Shiraishi Kokeshi Festival.
Iwazo form

Indigo kokeshi dolls
Artisans production
6th generation Naomichi Sakurai
The sixth generation of the Sakurai family. Under his father, Akihiro, he produces traditional kokeshi of various types,
kiji-hina (wooden dolls), and creative kokeshi dolls of original modern designs.
He is also actively engaged in kokeshi doll making, inheriting his grandfather Shoji's foot-pedal potter's wheel technique.
Himself form / Iwazo form

kiko